Map
1238: The Battle of Iceland - Pop-up Exhibit
1238 The Battle of Iceland is an immersive exhibition incorporating cutting-edge interactive technology that transports you into the past. You can tak
2Go Iceland Travel
2Go Iceland Travel is your one-stop shop for all your travel needs in Iceland. Focusing on private tours, luxury vacations, and tailor-made experience
4x4 Adventures Iceland
4x4 Adventures Iceland is located just a 5 min. drive from the Blue Lagoon and is specialized in receiving small and large groups of people. Just get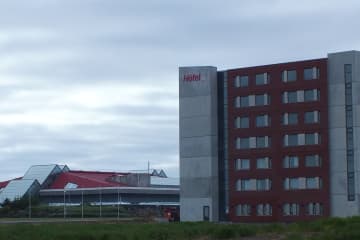 Airport Hotel Aurora Star
The hotel opened in 2012 and is within walking distance, only 100 metres, from the Keflavik Airport Terminal. The rooms are modern and spacious and of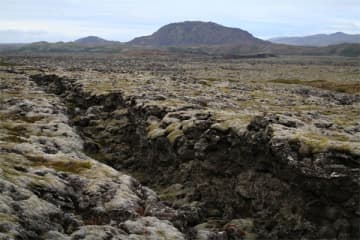 Almenningur
Patch of lava field in Vatnsleysustrond county. Located between two lava fields Kapelluhraun and Afstappahraun. It came from Hrútárgjárdyngju that eru
Arctic Horses
Arctic Horses offers horseback rides to the best destinations of the otherwordly Reykjanes Peninsula in south western Iceland, and is the only stable
Arnarsetur
Arnarsetur is part of one remarkable geological formation of modern times and is mostly undisturbed. It is a short monogenetic volcanic fissure with s
Askur Yggdrasils
Standing outside the Suðurnes Hospital is Askur Yggdrasils, a sculpture made by Erlingur Jónsson. Askur Yggdrasil serves as a symbol of the Tree of Li
Aurora Basecamp
Aurora Basecamp is a one-of-a-kind facility, offering guests the chance to experience a real-time, indoor simulation of the Northern Lights, in a warm
Álög (Spell)
At the entrance of the town Sandgerði is a sculpture named Álög (Spell) made by Steinunn Þórarinsdóttir. The sculpture features a person standing in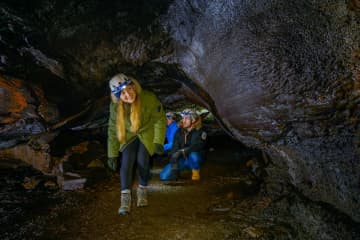 Basecamp Iceland
Founded and continuously operated by a small team of family and friends, Basecamp Iceland takes pride in providing the ultimate in small group adventu
Basendar
An ancient fishing outfit and a trading post just south of Stafnes. It was one of the harbours of the Danish Trade Monopoly posts comprising Hafnir,
Blue Car Rental
Blue Car Rental is a local family-owned business, founded in 2010. We at Blue Car Rental set out to provide travellers with the best service as possib
Brennisteinsfjöll
Brennisteinsfjöll, or Sulphur Mountains, are a ridge of late Ice Age hyaloclastite mountains. The highest point is the lava shield Kistufell. Brennist
Bridge Between Continents
Bridge between Europe and North America on Reykjanes Peninsula.   The lava-scarred Reykjanes peninsula lies on one of the world's major plate boundar
Brimketill
Brimketill is a small, naturally carved pool, by marine erosion, at the lava shore edge west of the town of Grindavík. The folklore relates that th
Bryggjan Grindavík
Bryggjan Grindavik is a Fisherman's Cafe/Restaurant by the Grindavik Harbour in South West Iceland. The building was originally built in 1980 a by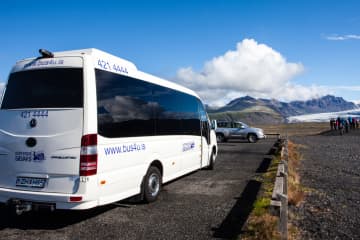 Bus4u - Iceland
@Bus4u Iceland you will find all the solution you will need to find when seeking ground transportation in every way, we handle all kinds of ground tra
Café Duus
This warm restaurant is located right by Keflavik's marina, the very heart of the town. A lovely wooden building, in the post-card perfect location, o
Café Petite
Cafe Petite is a cosy coffee house in Keflavik. We emphasize on a relaxed, comfortable environment that makes you feel right at home. With comfortable
Church of Grindavík
The Church in Grindavík was taken into use in 1982, but its preparation began in 1966, Ragnar Emilsson was the architect who designed the church. The
Circle Car Rental
Circle Car Rental offers a large selection of new and affordable rental cars for your trip to Iceland. This new Icelandic family-owned car rental was
Courtyard by Marriott Reykjavik Keflavik Airport Hotel
Courtyard by Marriott Reykjavik Keflavik Airport is a brand-new hotel, only a few minutes´ drive from KEF International Airport and is located inside
Cove Helguvik
Helguvik is a small cove close to the freestanding rock Stakkur off Cliff Holmsberg, just north of Keflavik in the town Reykjanesbær.  Nowadays this c
Diamond Lounge and Bar
Diamond Lounge & bar is a exquisite bar located in our Versace reception with a large selection of wines, whiskeys, beers and cocktails as well as you
Diamond Suites
Diamond Suites boutique hotel is the first 5-star hotel in Iceland and is located on the top floor of the already renowned Hotel Keflavik. Our main fo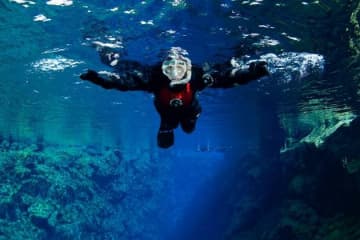 DIVE.IS
DIVE.IS is a dive center formed in 1997 and offered various diving courses. In early 2000's the company started offering both diving and snorkelingtou
Djúpavatn, Spákonuvatn and Grænavatn
Three lakes in the hyaloclastite Ice Age ridges Vesturháls and Sveifluháls, contain groundwater. Djúpavatn is partly a crater lake, close to Djúpavatn
Drykkjarsteinn
A rock with three holes, shape like bowls.  Most wanted stop for travellers that had to go to either to Grindavik or Krýsuvík. It is located were the
Duus Handverk (handmade)
Duus Handverk is a little store of handmade gift products of wool, glass, and more beautiful things from a group of 20 local artists. A better selecti
Duus Museum - Cultural Center
Duus Museum is the Art and Cultural Center of Reykjanesbær where you can experience diverse exhibitions and cultural activities all year round. The mu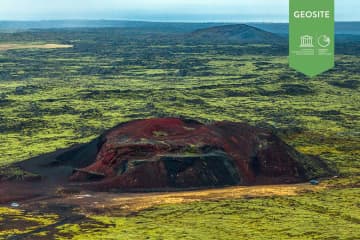 Eldborg at Höskuldarvellir
The grassy field Höskuldarvellir, northwest of Grænadyngja and Trölladyngja, is bordered in the northeast by a large monogenetic scoria and spatter co
Eldey
A sheer 77 metre high rock protruding out of the sea. It is about 15 km to the south of the southwestern most tip of the Reykjanes peninsula.The stru
Eldey Airport Hotel
Eldey Airport Hotel is a family run hotel situated just 10 minutes drive from Keflavík International Airport and 20 minutes by car from the world famo
Eldvorp - Remnants of ancent settlement
Shelters made of rock, ancient paths and stacked walls. They have been discoverd near Eldvörp, a row of scoria and spatter cones formed in the Reykja
Eldvörp
Eldvörp is the name of scoria and spatter cones in off-set sections that form a row of ten kilometers, and it's surrounding lava covering 20 square ki
Festarfjall
A eroded subglacial volcano. A section of a small hyaloclastite hill is exposed in the costal cliffs. A dyke named Festi(ladder), evidently the feeder
Fish House Bar and Grill
Fish House is a nice family-run restaurant that offers fish processed and caught locally along with grill food.   We offer a nice and relaxed atmosphe
Folk Museum in Garður
The municipal museum in Garðskagi is located in a natural paradise, which blends the beauty of the landscape with its rich animal and birdlife. The m
Four Winds
Located at the intersection of Heiðarbraut and Garðbraut stands the sculpture Fjórir vindar (e. Four Winds), created by Helgi Valdimarsson as a gift t
Fuglahúsið - The Bird House
The sculpture Fuglahúsið (e. The Bird House) by the artist Sigurð Guðmundsson is located at the grass field by Fjölbrautskóla Suðurnesja (secondary sc
Gallow cliffs in Stafnes
Place of execution according to an old folk story.  Cliffs, two of which are quite high, with an inlet several fathoms deep between them. A tree betw
Gallow Cliffs near Hagafell
Cliffs known as Gallows Cliffs or Hanging Rocks. The cliffs were used to execute thieves captured in Þorbjarnarfell according to an old folk story.
Gardskagi - campsite
The campsite at Garðskagi is perfect for visitors seeking freedom and open views of the ocean. It is located at Garðskagi Point and is open all year l
Gardur
Outdoor enthusiasts should not miss out on the chance of visiting the town of Garður if they are traveling through the Reykjanes peninsula.On Garðskag
Garðskagi
Including: Garður, Garður Lighthouse, Sandgerði.  Time: Really depends on how long each to will be. Just the driving is estimated to be: Short versi
Garður - Kalmanstjörn - Birding trails
Garður - Kalmanstjörn Garður Travelling from Keflavík to the tip of the peninsula one can see Snow Buntings (Plectrophenax nivalis), Rock Ptarmigan
Garður Swimming pool
Opening hoursi: June 1 - August 31 Weekdays: 06:00 - 21:00 Weekends: 09:00 - 17:00 September 1 - May 31 Weekdays: 06:00 - 08:00 & 15:00 - 20:30 Wee
Geirfuglinn
On the tip of the Reykjanes peninsula, below Valahnjúk, you can find the sculpture Geirfuglinn (The Great Auk) created by the American artist Todd McG
Geitahlid
A table mountain just east of farm Krysuvik.  Geitahlíð is both a doleritie shield volcano and a table mountain. It is 386 metres high on the souther
GeoCamp Iceland
GeoCamp Iceland is an educational institution and tour operator, established in 2006, with the objective to increase knowledge and understanding in Ea
Grindavik
Grindavík, a family-oriented village, is one of the nations strongest fishing industry townships, and home to well established processing plants and a
Grindavík Campsite
Grindavík opened a brand new State of the Art campground facility in the summer of 2009 at Austurvegur 26. The campground is a pleasure-fest for the f
Grindavík Golf club
Golf course name: Number of holes: Par: Húsatóftavöllur 13 71
Grindavík Library
The public library in Grindavík has a good selection of books and other materials available.
Grindavík Swimming pool
Address: Austurvegi 1Tel: +354 426 7555   Two hot tubs, one with jet massage Cold pot Sauna Children's pool Waterslide
Grænadyngja
Grænadyngja is a steep hyaloclastite mountain west of the Sog-geosite. It has the same geolocical features as Trölladyngja mountain. It is a geotherma
Grænadyngja and Trolladyngja
Grænadyngja and Trölladyngja are steep hyaloclastite mountains west of the Sogin geosite. They are surrounded by young volcanic fissures, geothermal s
Grænavatn
Two maar type explosion craters, probably over 6000 years old. The age difference between the craters is probably small. Both of the craters are lake
Guesthouse Keflavik
Guesthouse Keflavik is across the street from the renowned Hotel Keflavik where you can fully enjoy all the different services available to hotel gues
Guide to Iceland
Uniting over 1500 Icelandic travel operators in a single community, Guide to Iceland remains the world's largest collaboration for Icelandic travel se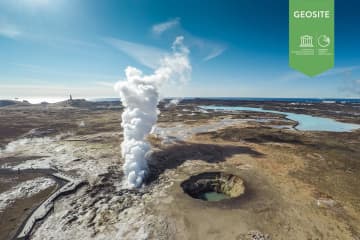 Gunnuhver
The mud pools and steam, vents in south-west Reykjanes. The area is close to Reykjanes lighthouse and is collectively named Gunnuhver after a femal
Hafnaberg - Sea-cliffs
Hafnaberg is a long line of sheer sea lava cliffs south of the old fishing hamlet of Hafnir. Hafnaberg is very popular among hikers and bird watchers
Hafnir
The town Hafnir owns the second most land in the Reykjanes peninsula and takes its name from two large farms Sandhöfn and Kirkjuhöfn which are now des
Hafurbjarnarstadir
Hafurbjarnarstadir is a farm on Gardskagi. Next to the property is Skagagarður the great stone wall that was between Skagatá and Garðskagi and there
Háleyjabunga
Háleyjarbunga is a small, flat lava shield with a large, 20 to 25 meter deep crater. The shield is at least 9,000 years old. It was formed during a h
Hidden Iceland
Hidden Iceland is a boutique activity tour operator, authorised by the Icelandic Tourist Board, taking small groups on personalised trips across Icela
Hjá Höllu
Hjá Höllu is a health food restaurant located at Gate C at Keflavik Airport and in the town Grindavík, only a few minutes away from the Blue Lagoon.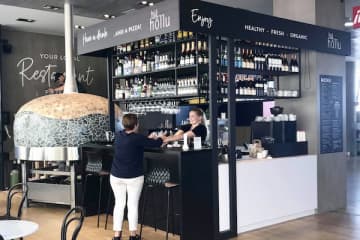 Hjá Höllu
Wood oven pizza restaurant at the airport. We are located at the C gates so we are close to all gates at the airport. Sit down for a pizza and a drink
Hljómahöll Conference Center
Hljómahöll is a cultural and conference center in Reykjanesbær. An important forum has been created for conferences, meetings and all kinds of cultura
Holskefla
The sculpture Holskefla (e. Breaker), created by Sigurjón Ólafsson, is situated outside of Hljómahöllinn. This artwork was built in 1971 and consists
Hopsnes
The spit on which you are standing is named Hópsnes on the west side and Þórkötlustaðanes on the east side. The spit is 2 km long and 1 km wide and wa
Hoskuldarvellir
Hoskuldarvellir is a green spot in the lava field to the west of the shield volcano Trolladyngja on the Reykjanes Peninsula in Southwest Iceland. A st
Hotel Duus
A New Marine-Themed Hotel In Keflavik. Modern designs inspired by age-old Icelandic traditions. Conveniently situated within the hotel, Kaffi Duus off
Hotel Keflavik
Hotel Keflavik is a 4-star family-owned hotel that offers a variety of warm and cosy rooms and suites, many newly renovated. Our main focus is a comfo
Hotel Vogar
Hotel Vogar is an excellent choice of accommodation for visitor who are leaving or entering the country as well as for longer stays because Keflavík i
Hólmsbergsviti
The Lighthouse at Holmsberg was built in1956 and stands 9,3 m tall with a compartmenet for the light of 3,4 m tall. It has identical lighthouses in 6
Hótel Berg
Hotel Berg is a newly restored 36 bedroom hotel sitting above a small marina in the town of Keflavik, where most tourists visiting Iceland start and e
Hrafna-Flóki
In front of Víkingheimar museum is a statue of the settler Hrafna-Flóki made by Mark J. Ebbert. The statue is carved in marble and was a gift from the
Hrafnagja
The normal fault and tension fracture, Hrafnagjá, is the longest of its kind at the Reykjanes peninsula. It is 12 km long and up to 30 m high. The set
Hraunsvík - Kleifarvatn - Birding trails
Hraunsvík Hraunsvík is a bird cliff east of Grindavík. Kittiwakes and Fulmars breed on the cliff, but seabirds, ducks, and marine mammals often catch
Hrólfsvík - Xenolithes
A well known locality for xenolithes. Xenolithesa are gabbroic crystal aggregates related to the host magma. The source of the lava is not known nor
Hrútagjárdyngja (shield)
Hrútagjárdyngja is a 6,000 to 6,500 years old ava shield, plus a lava flow that covers 80-100 sq. km of land. That volume of lava is at least 3 cu. km
Húshólmi
Ruins of farm partly covered by lava flow. The Húshólmi area is a so called "clearing" over which the lava Ögmundarhraun didn´t flow during an erupt
Hvassahraunskatlar
Hvassahraunskatlar is a hornitos in the Hrútagjá lava shield flow. Hornitos usually form due to powerful degassing at crater edges. These ones, howeve
Hvirfill
Standing at Austurgarð on the pier in Sandgerði is the artwork Hvirfill, created by Jón Þórisson. The installation commemorates 100 years of powered f
I-stay
On the campsite is a servicehouse that contains a bathroom, showers, outdoor-sinks (hot and cold water), also possible to use a washer and a dryer. Ha
Iceland / Promote Iceland / Visit Iceland
Promote Iceland is a public-private partnership established to market Iceland´s commercial interests abroad and to increase the country´s export reven
Iceland Car Rental
We are a family owned car rental in Iceland. Our main goal is to provide an excellent and personal service to all our clients. We have two rental stat
Iceland Moments
Iceland Moments is a family run travel agency focusing on private luxury travel. We believe true luxury is found in untouched nature, meaningful inter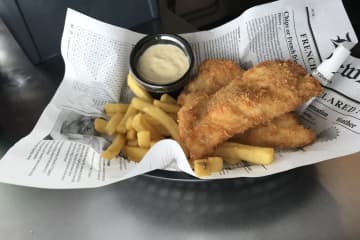 Íslands Hrafnistumenn
The artwork Íslands Hrafnistumenn by Erlingur Jónsson was unveiled in 2008 at Stóra-Voga field. During the time of rowboats, Vatnsleysuströnd was one
Junkaragerdi
Junkaragerdi was a farm just north of the Hafnarberg Cliffs.  Its name was probably derived from 12-18 foreigner, who lived there, and were called "Ju
Kalfatjorn
Kalfatjörn is a former farm, parsonage and church site in the Vatnsleysa County.  It was a parsonage until 1907, when the parish was united with the G
Kalmanstjorn
Kalmanstjorn is an abandoned farm, a former mansion to the south of Lake Kalmanstjorn, where there are still some ruins reminding of the habitation, w
Kapelluhraun
The rugged and barren Chapel Lava Field or the New Lava Field spreads between the town Hafnarfiord and Cove Straumsvik.  According to chronological re
Karlinn
Karlinn ("The Man") is a 50-60 m high seacliff, an eroded volcanic plug, which stands high and mighty just off the coast of Valahnúkur. Karlinn is pop
Katlahraun
Katlahraun is lava that flowed about 2,000 years ago and entered the sea. Sudden damming at the shore caused a large, circular lava pond to form. Some
Kálfatjarnakirkja
The first mention of a church on Kálfatjörn can be dated to the year 1200 but the current church in Kálfatjörn was consecrated in 1893 and was the lar
KEF Restaurant
KEF has been a flagship restaurant in Keflavik for years and is popular with locals as well as travellers.  We welcome you to wine and dine in our bea
Keflavíkurkirkja / Keflavik Church
Keflavik Church was built in 1914 and designed by Rögnvaldur Ólafsson.  Opening hours:  Mondays - Thursdays: 10:00 - 12:00 & 13:00 - 15:00 Fridays: 10
Keilir
Keilir is a hyaloclastite mountain. It was created during subglacial eruptions during the ice age. Its shape makes it distinctive; according to geolog
Keilisnes
Keilisnes is a spit of land between the coves Flekkuvik and Kalfatjorn. On the Cairn Mound near the old main road stands a cairn called Stefansvarda.
Kirkjubol
Kirkjubol was a farm at Gardskagi, often occupied by rich farmers and noblemen. In 1433, a group of men, escorting Bishop Jon Gerreksson of Skalholt u
Kirkjuvogur
Kirkjuvogur (Church Cove) was a mansion in Hafnir, an annexed church site of the Grindavik parish, which was long served by the reverends of Utskalar.
KLA Suites - Keflavík luxury apartments
Beautiful luxury apartments in the heart of Keflavík, located next to the international airport. The apartments are bright and cozy with a high class
Kleifarvatn
Lake between Sveifluháls and Vatnshlíð.  The lake Kleifarvatn is about 10 km². It is the largest of Reykjanes peninsula and the third largest of sout
Konvin Hotel
The hotel has 125 spacious rooms with en-suite bathrooms, coffee and tea making facilities, free wi-fi in all areas and comfortable new beds, a workin
Kristinsson handmade
For many years Kristinsson has given homes charm with his high-quality interior and furniture made of unadulterated wood straight from nature. His sto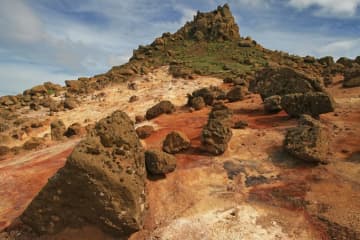 Krýsuvík
Popular recreational destination with many interesing hiking paths.  Columns of steam rise skywards, bubbling mud pools play their rhythmical symphon
Krýsuvík Church
Krýsuvík church was built in 1857 and is a typical Icelandic country church from the 19th century. The church was discontinued as a parish church in 1
Krýsuvíkurberg
Sea cliffs with colorful birdlife. Accessible and very interesting 15 km wide and 40 m high sea cliffs which attract over 57 thousand seabird couples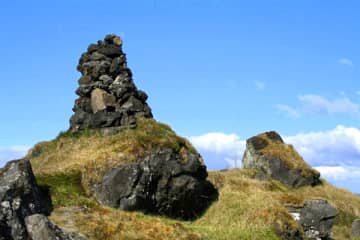 Kuagerdi
A green patch near a pond next to the old route at the southern edge of Afstapahraun which is a lava field up of Vatnsleysuvík. Reykjanesbraut (41) li
KuKu Campers
KuKu Campers offers the best and most affordable way to see Iceland. It's not only economical, but also allows you freedom by putting you in the drive
KVIKAN - House of Culture and Natural Resources
Kvikan is the cultural house of Grindavík. Diverse cultural activities take place in Kvikan e.g., events, performances, lectures, choir rehearsals and
Kökulist bakery
Freshly baked every day. Gourmet sandwiches and quality baked goods have delight townspeople for decades. In 2015 Jón Rúnar and Elín, the owners of Kö
Lambafellsgjá
An open fissure in an oval hyaloclastite mount named Lambafell. The fissure is up to 50 metres deep. It is possible to hike along the entire fissure i
Lava Car Rental
LAVA Car Rental offers a wide selection of new and reliable rental cars in Iceland at the best price.  Founded in 2016, LAVA Car Rental is an Icelandi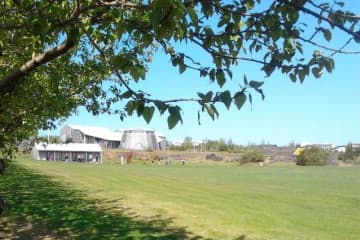 Lava Hostel
Lava Hostel offers a low-price accommodation in Hafnarfjörður a town known for elves and Vikings. In this great atmosphere, we offer rooms for up to e
Lava restaurant at the Blue Lagoon
LAVA Restaurant at Blue Lagoon offers a unique dining experience. It is built into the cliff so it features a natural lava wall and the view overlooks
LiBRARY bistro / bar
LiBRARY bistro/bar Keflavik is one of the coolest bistros in Iceland.  Trendy décor by the Italian company Dialma Brown puts the restaurant squarely o
Lighthouse Inn
Lighthouse-Inn is a new, family-run, log hotel located in Gardskagi in the small coastal town of Gardur, only a 10-minutes' drive from Keflavík Inter
Little White Castle
The Little White Castle offers two recently renovated Studio apartments in beautiful surroundings.  Short walking distance to the main restaurants and
Merki sjómanna (The sailors sign)
There are many interesting things to explore in the immediate proximity. In the field, you can find other sculptures as well as relics from the Local
Méltunnuklif
Lava pile between Grindavík and Krýsuvík. A good place to ,,read" the history of the peninsula.   Location: Short walk from road 427
Monument of Jón Þorkelsson
Jón Thorkellius, born in Innri-Njarðvík in 1697, was a renowned scholar who fought for educational reforms in Iceland. He passed away in Copenhagen in
Moss Restaurant at the Blue Lagoon
Awarded a Michelin star in 2023, Moss Restaurant transforms seasonal ingredients into timeless gourmet experiences. In an atmosphere of sophisticated
Mt Fagradalsfjall
Mt Fagradalsfjall, the westernmost part of the mountain ridge of the Reykjanes Peninsula, is really a small plateau. Some hyalocaslite ridges protrude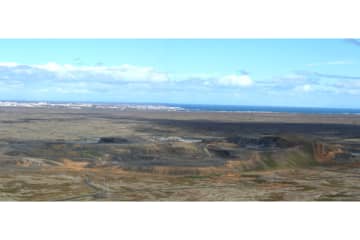 Mt Stapafell
Mt Stapafell is a hyaloclastite mountain on the Reykjanes Peninsula to the southeast of the village Hafnir. It is mostly made of pillow lava. Olivine,
Mt Thorbjorn
A free standing, hyaloclastite mountain north of Grindavik. It offers great panoramic view over most of the Reykjanes Peninsula on fine days. The nor
Njarðvík Swimming pool
Address Norðurstíg 2, 260 ReykjanesbæSími: 421 2744 og 421 4567 Opening hours06:30 - 21:30 virka daga, 13 -17:00 laugardaga og 8 - 12:00 sunnudaga   W
Norðurflug Helicopter Tours
We can show you nature like you have never experienced it before!   Nordurflug Helicopter Tours is the biggest and oldest helicopter company in Icelan
Northern Light Inn
Northern Light Inn is a family-run hotel, wellness spa and restaurant near Iceland's Blue Lagoon. • 42 lovely rooms, 24/7 honesty bar, fast wifi and f
Núpan Deluxe
What a great place to call home! We are determined to help our guests to enjoy all that Iceland has to offer. Restaurants, pubs, health centers and sw
Ocean Break Cabins
Our cosy cottages are located only 10 minutes away from the Intl. airport. The Atlantic coastline is the setting for the cottages so you can expect a
Ocean Break Cabins
Our cosy cottages are located only 10 minutes away from the Intl. airport. The Atlantic coastline is the setting for the cottages so you can expect a
Ogmundarhraun
A lava flow formed in an eruption in the year 1151 AD. In that year a 25 km long fissure opened obliquely acorss the Reykjanes peninsula. The lava fi
Ósar
Inlet created because of a subsidence. Important for birdlife and marine biology.  Location: Near small village Hafnir - short walk from road 44
Paddy´s Beach Pub
Paddy's is a local favourite when you want to grab a drink, watch a sporting event or just play some beach volleyball. Events vary from local music, s
Papa´s Pizza
Friendly family restaurant where we also offer take away and home delivery. We specialise in fish'n'chips and pizza. We are located in the center of t
Park Inn by Radisson Reykjavik Keflavik Airport
Stylish accommodation at Park Inn by Radisson Airport HotelSituated in Keflavik city center, just 5 kilometers from Keflavik International Airport (KE
Patterson
Patterson Airport was built in 1942 by the usa navy. The airport was mainly used to maintain the aircrafts. Next to the airport can be found Subfossi
Pink Iceland
Pink Iceland is Iceland's only LGBT travel agency and Iceland's leading wedding planner service. Pink Iceland operates Pink day tours for individuals
Public library Suðurnesjabær
The Public library in Suðurnesjabær is located nex to the swimming pool in Sandgerði.
Raven´s Bed
The Höskuldarkot Fjord in Njarðvík or The Fjord in Koti is a popular guesthouse in the vicinity (7km) to the airport (Keflavik International Airport).
Regnbogi (Rainbow)
In front of the terminal stands Regnboginn (e. the Rainbow) by the Icelandic artist Rúrí. The work leaves a strong impression on the environment as th
Reykjanes - Seakayak
Reykjanes Seakayak offers guided tours on seakayaks in the vibrant and safe environment in Reykjanes bay in the period 1st of May- 30th of September,
Reykjanes Art Museum
Reykjanes Art Museum presents several new art exhibitions every year. The museum is located in Duus Museum, the Art and Cultural Center of Reykjanesbæ
Reykjanes Geopark visitor center
The Reykjanes geopark visitors' center is located in the Duus museum, Reykjanesbæ. The visitors' center has an exhibition on the geology of the Reykja
Reykjanes Lighthouse
The first lighthouse in Iceland was built on Valahnúkur in Reykjanes inthe year 1878. By 1905 earthquakes and surf had damaged Valahnúkurso much that
Reykjanes Museum of Heritage
The  Reykjanes  Heritage  Museum  presents  temporary  exhibitions which  address  specific  aspects  in  local  history  of  the  region  and somewha
Reykjanes Museum of Heritage - Stekkjarkot
Stekkjarkot is a classic example of the roughly built turf, stone and timber cottage-type houses once common on the Reykjanes peninsula and other coas
Reykjanes nature reserve
A large nature reserve ideal for recreation and to explore in the nature. The nature reserve is about 300 square kilometres and is by far the largest
Reykjanes Public Library
The Reykjanesbær library is located at Tjarnagata 12, sharing the building with the Reykjanesbær town hall as well. The library's opening hours are be
Reykjanesbaer
The Town of Reykjanes is a young and vibrant rapidly growing town on Reykjanes peninsula. There has been a significant increase in number of citizens
Reykjavik Excursions
Reykjavik Excursions by Icelandia offers a wide variety of day tours, enabling travelers to visit and experience many of the most stunning and exotic
Rosmhvalanes
Flat point at the northwestern part of the Reykjanes Peninsula. It is from glacial periods and is between Ytri-Njarðvík and Kirkjuvog.  Rosmhvalur w
Sagnatröllin (Trolls)
The trolls are stone figures that can be found around Reykjanesbær, and they make a big impression on the environment. Áki Gränz created the figures,
Salthúsið Restaurant
Enjoy Icelandic cuisine in a warm and inviting log house.  You can call it bacalao, salted cod or morue, the cod fish was once so important to Iceland
Sandfellshæð
One of the oldest and largest lava shield on the Reykjanes peninsula. Formed in late glacial time, about 14.000 years ago, when sea level was about 30
Sandgerdi
Sandgerði is one of the country's major fishing communities. Rich fishing-grounds are found just off the coast of Sandgerði. There are interesting thi
Sandgerði Swimming pool
Opening hours: September 1 - May 31: Weekdays: 07:00 - 20:30 Weekends: 10:00 - 16:00 Gym open at same hours June 1 - August 31 Weekdays: 07:00 – 2
Sandgerðiskirkja / Sandgerði Church
The curch in Sandgerði was taken into use in 1998 and is ordained for all religious ceremonies. 
Sandvík - Grindavík - Birding trails
Sandvík - Grindavík Stóra-Sandvík Stóra-Sandvík is a small inlet with a big sandy beach, while on the inner part of the inlet is a large pond with b
Selatangar
Selatangar was a big fishing outfit between Grindavik and Krysuvik. It was abolished after 1880. Extended ruins of the abodes and other houses are st
Seltjörn
A pond with good walking paths, picnic facilities and a barbecue. Next to Seltjörn is Sólbrekkuskógur, a small forest, but sheltered and lovely as it
Seltún
An important high temperature geothermal area. Many study opportunities due to the great variety of features. A boardwalk leads through the area. Sel
Silica Hotel
Named for the Blue Lagoon's iconic healing element and architected into a vast lava plain, Silica Hotel is a sanctuary of relaxation and rejuvenation.
Sjávarsetrið
Sjávarsetrið is a new restaurant by the Sandgerði harbour.  Warm and cosy interior grabs as soon as you walk inside, here everyone should feel good. S
Skagagarður, the Great Wall
A protective wall that lay from Kirkjuból to Útskálar.  The village of Garður at the north tip of the peninsula was named after the wall.  The wall
Skálafell
Earthquake fissures in a shield that built up in several eruptions.        In a narrow fissure system. Can find there small caves. It is most common
Snorrastaðatjarnir /Háibjalli
A popular recreational area.  Pounds, rich of vegetation and important resting place for migration birds. Next to the pounds is Háibjalli, a 10 m hi
Sogasel
Ruins of a shieling(hut), used for cattles during the summer time. The shieling was located in a crater.   Location: Short walk from road 428 (only
Sogin
A depression in a hyaloclastite ridge. The area is colourful due to intese high temperature alternation and a few mud pools and solfataras.  Locatio
Sossa
Sossa is an Icelandic painter and Fulbright Scholar. She's a graduate from the Royal Danish Academy of Fine Arts as well as a Master of Fine Arts from
Southwest Iceland Nature Research Centre
Southwest Iceland Nature Research Centre is a regional institute of natural research and is based in Sandgerði. It was established in the year 2000 an
Stadarborg
A sheep shelter, round in shape and constructed skilfully from lava rocks. Situated 2-3 km from the former parsonage Kalfatjorn in a direct line from
Stadur
Stadur is a former parsonage and a church site a short distance to the west of the town Grindavik. It was a parsonage until in the beginning of the 20
Stafnes
Stafnes was a mansion in the past.  There were many fishing outfits on the property and many people lived there during the fishing seasons.  Royal fis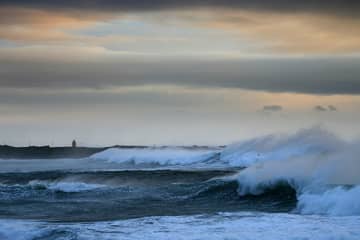 Stakksfjordur
This is a deep southern inlet of the big Faxi Bay between spit Keilisnes in the east and the Stakkur Peak of the Holmur Cliff in the west.  The Stakku
Stampar
Two volcanic fissures lie from the sea onto land on the western side of Reykjanes and form a series of craters. These crater series have been named St
START Hostel
Start Hostel is a spacious hostel located on Lindarbraut 637 in Ásbrú, Reykjanes, just an 8-minute drive from the International airport in Keflavik. T
Stori-Holmur
Stori Holmur was a mansion in the Leira County.  Probably Steinunn the Old, an aunt of Ingolfur Arnarson, the first Norwegian settler, lived there.  O
Stóra-Eldborg next to Geitahlíð
Eldborg is by far the highest of five craters lying along a volcanic fissure in the slopes of Geitafell, and is often called Stóra-Eldborg (Big-Eldbor
Stóra-Sandvík
Stóra-Sandvík is a beautiful cove with black sand beach and grassy dunes. Located close to Bridge between Continents, it is the perfect stop while exp
Strandarheidi
The Strandarheidi is also called Vatnsleysustrandarheidi. This area comprises of barren lava fields inland from the Vatnsleysa Coast. Originally it of
Ströndin vestan Grindavíkur
Protected coastline because of birdlife, marine biology and rifts.  Location is west of Grindavik by road 425.
Sudurnes Science and Learning Center
If you are interested in the Icelandic nature and wildlife, sea creatures, research related to the area and art, the Sudurnes Science and Learning Cen
Suðurnes Golf club
The annual national Icelandic Stroke Play Championship will be held at Leira golf course on July 21st - July 24th. Twenty women and over one hundred m
Suðurnesjabær
On June 10th, 2018, a new municipality, Suðurnesjabær was created from the merger of Sandgerði and Garður. Residents voted on their new town's name an
Sundhnúksröðin
A crater row formed in eruption 2.350 years ago. It created natural harbour condtions in the town Grindavík. Sundahnúkur was used as a landmark for t
Svartsengi
One of the five major high temperature areas of the Reykjanes Peninsula. It supplies all of the communities of the Reykjanes Area with hot water for
Sveifluhals
A lava flow formed in an eruption in the year 1151 AD. In that year a 25 km long fissure opened obliquely across the Reykjanes peninsula. The lava fi
Take Off Bistro
Take Off Bistro is a cosy and friendly bistro with quality burgers, steak, fish, hot wings, salad and more. Have a glass of wine or beer on Happy Hour
The Blue Lagoon
The Blue Lagoon is  a health and geothermal spa on the Reykjanes Peninsula. A visit to the Blue Lagoon Iceland geothermal spa is an important part of
The Bridge
Our Restaurant, The Bridge, is open all days of the week where you can find a varied menu to suit everyone, both for those in a hurry and those who wa
The Church at Hvalsnes
The church at Hvalsnes was consecrated in 1887. Ketill Ketilsson farmer and ship owner at Kotvogur, who then owned the land at Hvalsnes financed the b
The Church at Útskálar
Einar Jónsson from Brúarhraun (1818-1891) built the foundation of the church which was consegrated in 1863. The interior of the church was painted and
The Church in Innri-Njarðvík
By the initiative of Ásbjörn Ólafsson, a farmer in Innri-Njarðvík, a church was built on the location. The church was consegrated in 1886 and is made
The Church in Ytri-Njarðvík
The Church in Ytri-Njarðvík was opened on April 19th, 1979. The church was designed by two architects, Ormar Þór Guðmundsson and Örnólfur Hall. The ch
The cod war at Básendar and Grindavík
The Giganta in the cave
The  Giganta  in  the  mountain  moved  to  the  Town  of  Reykjanes during the family and cultural festival Night of Lights in 2008 and is now locate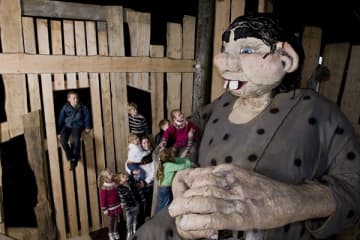 The Giganta in the cave
Giganta in the mountain moved to Reykjanesbær during the family and cultural festival the Night of Lights in 2008 and is now located in Black Cave at
The Icelandic Museum of Rock ´n´ Roll
The Icelandic Museum of Rock 'n' Roll (Rokksafn Íslands) is a new museum about the history of popular music in Iceland. The museum was opened in 2014
The Lighthouse on Gardskagi
On Garðskagi you can find two lighthouses, the older one and also the smaller of the two was once regarded as one of the best lighthouses in Iceland b
The Old Church in Grindavík
The old church in Grindavík was consecrated in 1909 and was in use until 12th of september in 1982 when it was desecrated. From 1989 to 2001 the curch
The Planets on Reykjanes
Simulations of the planets of the solar system have been placed at relatively correct distances from the sun. Starting from the sun, which is not poss
The Retreat at the Blue Lagoon
Built into the volcanic frontier and encircled by the Blue Lagoon's mineral-rich waters, the suites at the Retreat open the door to unparalleled hospi
Thorshofn
During the 19th century ships started frequenting this harbour again.  The merchants of Keflavik often unloaded salt, timber and heavy merchandize the
Thrainsskjoldur
Thrainsskjoldur is an extensive lava mound north of Mt Fagradalsfjall. There are no resent remains of volcanic activity on its top, but vast lava area
Tjarnir á Vatnsleysuströnd
Seaweed-coverd rocks which are part of the Þráinsskjöldur Lava Flow. They were formed about 10,000 years ago. Due to the pourous roks that form the
Tyrkjaránið (The Turkish invasion)
A glass artwork that depicts the Tyrkjaránið (The Turks invasion) By Einar Lárusson is located at Grindavík Church.  The artwork depicts the time when
Uppspretta
In 2013 an old run down water tank was turned into a piece of art by the art movement Toyisim, 28 people helped with the transformation including 3 lo
Urta Islandica
Urta Islandica's Gourmet Local Products Family company that produces delightful teas, syrups, salts, and jams. Urta Islandica is a family-run business
Valahnúkamöl
High boulder ridge composed of well rounded stones.  The ridge is about 420 m long, 80 m wide and 10 m high. The rounded stones are 1-3 feet thick.
Valahnúkur
VALAHNÚKUR MOUNTAIN Valahnúkur is composed of tuff layers, pillow lava and breccia. The mountain was formed in a single eruption and shows evidence o
Vatnsleysa
Farms Smaller and Big Vatnsleysa were formerly manors and big fishing outfits in the County of the Vatnsleysa County.  They stood on the western shore
Vatnsleysustrond
An area at the south side of Faxaflói, from inside of Hvassahraun to Vogastapi, often called "Ströndin" (the coast) by locals. In all Vatnsleysuströnd
Vatnsleysuströnd - Reykjanesbær - Birding trails
Vatnsleysuströnd - Reykjanesbær Vatnsleysuströnd is one of few vegetative places on the Reykjanes Peninsula. It is a coastal area from Vatnsleysuvík
Vigdísarvellir
Ruins of the old farms Bali and Vigdísarvellir. Camping site sorrounded by beautiful scenery.  Location: Road 428 closed on winter time. 
VIGT
VIGT is an interior design studio formed by a mother and three daughters. Our common interest is derived from our experience in the interior furnishin
Viking World
Vikingaheimar is the home of the Viking Ship Íslendingur (the Icelander). Built in 1996, Icelander is an exact replica of the famous Gokstadship, a re
Visit Reykjanes
Reykjanes Marketing Office The Marketing Office of Reykjanes peninsula in South-West Iceland is responsible for the regional Tourist Infmormation Cent
Vogar
In the Town of Vogar you will find various services and can enjoy a walk along the sea, watch the birdlife by Vogatjörn pond and the monument Íslands
Vogar Campsite
The camping site is located by the SportsCenter in Vogar. It has good facilities for guests including, kitchen, showers, and Free Wifi. It is open all
Vogar Swimming pool
The name of the town Vogar in Vatnsleysuströnd in Reykjanes Peninsula can be translated to "Vogar in beach without water". There is however plenty of
Vogasjóferðir
Vogaseatours is a new small family company owned by Símon og Sigrún, started in 2017. In 2018 we bought the steelboat Særós. Særós is named after our
Vogastapi
Vogastapi was named "The Heifer Cove Cliff", later "The Cove Cliff" and sometimes just "The Cliff" by the inhabitants of the area. It is an 80 m. high
Vonin (Hope)
Vonin. Monument dedicated to men from Grindavík who have drowned.   In January 1952, a tragic sea accident occurred where the ship Grindvíkingur GK 39
Waterworld
Waterworld is an indoor water park for the whole family. The park includes a heated activity pool for the youngest generation. There is also a 25 m lo
Your Friend In Reykjavík
Your Friend in Reykjavik offers walking tours and experiences in downtown Reykjavik as well as driver-guided tours in and out of Reykjavik. Our primar
Þotuhreiður (The Jet Nest)
Standing on the north side of the terminal building is Magnús Tómasson's artwork Þotuhreiðrið, also known as Jet Nest. This artwork won an airport com